Alpine Esports zet zich vol in op simracing
Alpine Esports hosted their inaugural Sim Racing Expo where they revealed their 2023 ambitions and a series of announcements.
The new 2023 F1® Esports team roster and Endurance drivers, with Patrik Sipos, Luke Smith, Rubén Pedreño, Collin Spork and Tom Lartilleux
The dates and format for the third year of the Alpine Esports Series powered by Binance, with $40,000 fan token bundles to be won by viewers
A new ambassador, PattyPat, joining the growing talent roster to support content creation and fan engagement
New kit designed by Kappa, the Official Kit Supplier
A series of new immersive technology partners including Varjo and Tobii, spanning VR, eyewear and eye tracking respectively signed as Official Suppliers to support driver training and performance, data tracking, that will support engineering for real-world racing and immersive fan experiences at events
Alpine also entered into mobile gaming to create a steppingstone for new fans and expanded their Web3 initiatives.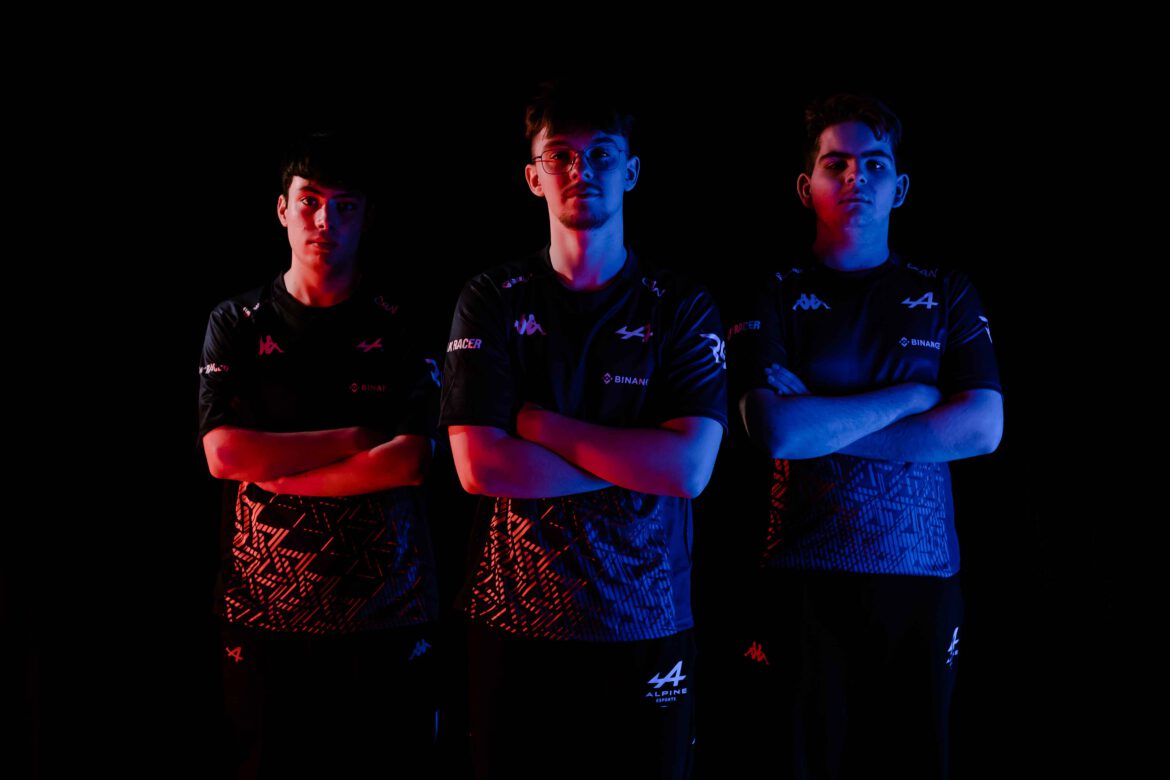 Meet the 2023 F1® Esports driver line up
Alpine Esports is delighted to unveil the new driver line-up for the F1® Esports Series 2023:
Fan favourite Patrik Sipos
Rising star and 2022 F1® Esports Exhibition runner-up Luke Smith
Rubén Pedreño, previously drove for Race Clutch (sim-racing organization & partner of Alpine Esports) as an academy driver. Rubén will be supported by the team to get his F1® Esports Pro License through the Challenger Series.
Endurance Drivers:
Collin Spork, who quickly rose to stardom in 2022 when he won the Formula SimRacing Championship by three points. Spork participated in the Le Mans Virtual Series where he managed to maintain a solid team standing during the world's longest virtual endurance race
Tom Lartilleux, who was also driving for Alpine Esports in 2022. Tom is a former Gran Turismo professional sim-racer as Vice-World Champion in 2018 FIA Gran Turismo World Championship.
New ambassadors and a new content facility with over £50,000 worth of equipment
PattyPatt, an F1® content creator known for hosting online lobbies, providing race commentary, and racing in competitive leagues, joins Alpine Esports as their latest ambassador. PattyPat will join AnaonAir and Thomb who renew their contracts and, alongside developing fun content for fans, will expand their remit beyond esports to connect with the wider motorsport community. Thomb also conducted a live broadcast at the launch of the BWT Alpine F1® Team 2023 F1® Championship Contender, the A523.
As part of Alpine Esports' commitment to creating more content and fan engagement opportunities the team revealed the Alpine Esports Content Room "powered by QAN", their Official Blockchain Partner. Built within the walls of their historical F1® factory at Enstone, the state-of-the-art facility is kitted with over £50,000 worth of equipment from Trak Racer, Elgato, and BenQ, and will be used to support immersive content and livestreams from drivers and ambassadors.
Alpine Esports championship series powered by binance returns for 2023
The Alpine Esports Championship Series returns for 2023, providing gamers and sim racers alike the opportunity to showcase their talent and attempt to take their virtual steps on the podium, driving Alpine A110 GT4 cars around 3 circuits.
How to qualify:
Hosted on Assetto Corsa Competizione, the Alpine Esports Championship Series 2023 qualifiers will take place between March 27th to April 9th 2023.
Anyone owning the game and GT4 expansion pack can participate.
Key Dates:
Qualifiers: Mar 27th-April 9th
Race 1: Apr 29th
Race 2: 11th May
Race 3: 25th May
The Prize:
The top 35 racers will qualify into the championship stage where they will compete in three rounds for a chance to win a share of the $60,000 in Alpine Fan Tokens, a driving experience in an Alpine GT4, an Alpine Racing TRX simulator rig from Trak Racer, BenQ Mobiuz EX3410R curved monitor and exclusive Alpine Esports merchandise.
Alpine Esports will also offer even more $40,000 fan token bundles and free NFTs for viewers at home.
New kit designed by Kappa
Alongside a new roster, Alpine Esports drivers will don a new team kit provided by Kappa, the Official Kit Supplier. Kappa has been a long-term partner of the BWT Alpine F1® Team, the Alpine Elf Endurance Team and Alpine Esports. The new kit embodies modernity, performance, and style while promoting comfort and breathability. The kit will include Alpine Esports' new logo alongside a snowflake design which symbolises the Alps, the DNA of the Alpine brand.
Partnership with special effect to support accessibility in gaming
Alpine Esports have signed Special Effect, a gaming charity that supports the physically disabled, as Official Charity Partner. Special Effect transforms the lives of the physically disabled through the use of innovative technology to make gaming as accessible as possible, with the goal of maximising fun and the quality of life of their gamers. Alpine Esports will work together with Special Effect to raise funds and awareness of accessible gaming for the physically disabled through charity streams, raising questions about accessible gaming in industry conversations, and work to develop more accessible ways for gamers to access sim racing.
Guillaume Vergnas, Head of Esports, Gaming & Web3 at Alpine
"I'm proud of the incredible growth Alpine Esports has seen throughout the past year, and aim to make 2023 even bigger and better. We're especially excited to work alongside an incredible charity like Special Effect to bring joy and gaming into the lives of as many people as possible. We give our absolute thanks to our fans and community who have allowed us to grow our brand, create new innovations, and bring together a talented team of drivers, ambassadors, and partners with the shared goal of elevating sim racing to the next level."
Qanplatform joins as the official blockchain partner to support fan engagement, team performance and operations
Alpine Esports and QANplatform, the cutting edge blockchain platform, are excited to announce a strategic partnership. For Alpine Esports the partnership will aid the team's fan engagement strategy and allow them to create practical use cases that will support internal operations. For QANplatform the partnership aims to illustrate how blockchain technology can be used to develop applications for businesses beyond payments processing.
QANplatform will become the Official Blockchain Partner and will take pride of place on the new F1 Esports team jersey and be the official partner for the content facility.
Web3 plays a pivotal part in alpine esports' fan engagement strategy
Alpine Esports invested in Web3 activations in 2022, playing a pivotal role in their fan engagement strategy with the launch of the Alpine Esports Series which saw them offer $100k worth Alpine Fan Tokens. Bundles of $10,000 worth of Alpine rewards and NFTs were up for grabs during live streams which dramatically increased the viewership of the broadcast. QANplatform is a hybrid blockchain platform, a combination of both public blockchain and private blockchain- by tapping into QANplatform's developer-friendly framework, tech stack and secure code libraries, Alpine will be able to gamify and customise their content and create new fan offerings instantly.
Blockchain is more than a payment process it can support practical usecases
From an operational point of view, Alpine Esports will benefit from QANPlatform's quantum-resistant protocols which will futureproof the applications developed on it, and provide full protection against quantum computing attacks. Alpine Esports will be able to create smart contracts (programs) in any programming language to automate a number of internal processes, such as managing talent bookings for the Content Room.
Immersive technology brands sign up to improve sim racing performance and connect with fans
Leveraging VR and XR with Varjo to create immersive content and experiences
Varjo, a world-leading virtual and extended reality (VR/XR) company on a mission to redefine reality, partners with Alpine Esports as their Official Supplier and VR Partner. As an already active member of the sim racing community Varjo has developed a series of functions with drivers in mind. With crystal clear edge-to-edge visibility, advanced ergonomics, integrated eye tracking, and a built-in cooling system, the Varjo Aero reduces the effects of motion sickness, while the XR-3 headset is the first and only headset of its kind to be created with human eye resolution immersing professionals in a highly realistic mixed reality driving experience.
The XR technology will be used for the wider Alpine Business Unit while the Varjo Aero headsets will offer immersive experiences to fans and drivers. Varjo will supply Alpine Esports with Varjo Aero VR headsets, named the best VR headset of 2022, to be used at events and in the new Alpine Esports Content Room, a new facility built within the walls of the historical F1 factory with over £50,000 worth of equipment to support immersive content and livestreams. 
Eye Tracking hardware and data outputs to support team performance
Alpine Esports has also signed Tobii as Official Supplier, the global leader in eye-tracking and pioneer of attention computing, to bring the innovative Tobii Eye Tracker 5 to the esports team. By using machine learning, artificial intelligence, and advanced signal processing to decode head and eye movements, translate microscopic gestures into accurate gaze signals. From this, Tobii generates insights to reveal what captures a person's attention and interprets intent. This trailblazing technology will support drivers in improving their attention and focus whilst racing – a vital skill for endurance racers. Tobii will supply the Tobii Eye Tracker 5 software to the Alpine Esports Content Room, alongside Alpine Esports ambassadors and drivers.
Stepping into mobile gaming
The Tiny Digital Factory joins Alpine Esports as Official Mobile Racing Game Partner. As experts in motorsport mobile games they joined the blockchain market in 2020 and developed new Web3 gaming experiences. The two-year partnership aims to embrace the accessibility of mobile gaming, breaking down the barriers to entry to sim racing. Alpine Esports will work with The Tiny Digital Factory across two titles, GT Manager and Infinite Drive, with Alpine vehicles featured in both games and more content being developed through the year
Rune Huse Karlstad, Head of Racing Simulation at Varjo
"We're thrilled to team up with Alpine Esports to bring the world of sim racing to life with the power of our highest-end virtual reality. Together, Varjo and Alpine can immerse drivers in the heart of the action and push the limits of what's possible in VR/XR esports. We can't wait to see what kind of pioneering experiences we can create together, and we look forward to driving the future of virtual racing together with Alpine Esports."
Ulrica Wikstrom, Vice President of PC at Tobii
"At Tobii, we're always looking for partners as excited as us about using cutting-edge head and eye tracking technology to improve their offerings. Alpine Esports' investment in sim racing and their belief in using data and statistics to improve their driver's performance makes them a perfect partner for us. Together we are looking to unlock the power of attention-based insights."
Announcement summary
Alpine Esports sim racing expansion plans
The new driver line-up for the F1® Esports Series 2023 and Endurance drivers
New 2023 kit by Kappa, the Official Kit Supplier
Format and Dates revealed for the 2023 Alpine Esports Series powered by Binance
Reveal of the Alpine Esports Content Room "powered by QAN"
New ambassador and resignings
Partnership with Special Effect- the Official Charity Partner
Alpine Esports signs QANplatform as Official Blockchain Partner
Alpine Esports technology partners
Varjo- Official Supplier & VR Partner- specialists in VR/XR headsets
Tobii- Official Supplier- the global leader in eye-tracking and pioneer of attention computing
The Tiny Digital Factory- Official Mobile Racing Game Partner- experts in motorsport mobile games