Voor groeiende behoeften aan CO2-arme en efficiënte logistiek
Renault Group, Volvo Group en CMA CGM GROUP bundelen krachten voor geheel nieuwe generatie nieuwe elektrische bestelwagens
Klimaatverandering vereist een versnelde transitie naar elektrificatie met het oog op toekomstige CO2-regelgeving voor goederenvervoer, waardoor het logistieke ecosysteem in steden drastisch zal veranderen.
Logistieke dienstverleners worden nu al geconfronteerd met een toenemende druk op de gebruikskosten en de behoefte aan geëlektrificeerde, veiligere en volledig verbonden voertuigen.
Tegen 2030 zal de Europese markt voor geëlektrificeerde bestelwagens verdrievoudigd zijn, wat een enorm potentieel belooft voor een gloednieuw aanbod van lichte bedrijfsvoertuigen – met name voor snelgroeiende e-commerce en verhuurbedrijven.
Renault Group, Volvo Group en CMA CGM bundelen hun krachten om deze nieuwe markt te verkennen en een voortrekkersrol in te nemen met een nieuwe generatie volledig elektrische bestelwagens en bijbehorende diensten.
Nieuw Software Defined Vehicle-platform tackelt pijnpunten van logistieke spelers met innovatieve en veilige oplossingen en een ecosysteem van op maat gemaakte oplossingen.
Renault Group en Volvo Group tekenen bindende overeenkomsten voor de oprichting van een nieuwe onderneming met een 50-50% belang en elk met het plan € 300 miljoen te investeren in de komende drie jaar. CMA CGM ondertekent een niet-bindende intentieverklaring met Renault Group en Volvo Group om toe te treden tot de nieuwe onderneming en investeert € 120 miljoen via PULSE, haar Energiefonds dat zich richt op het versneld CO2-vrij maken van de transport- en logistieke sectoren.
De oprichting van het nieuwe bedrijf staat begin 2024 gepland, afhankelijk van alle wettelijke goedkeuringsprocessen. Het toekomstige bedrijf zal opereren onder een eigen identiteit en zal gevestigd zijn in Frankrijk.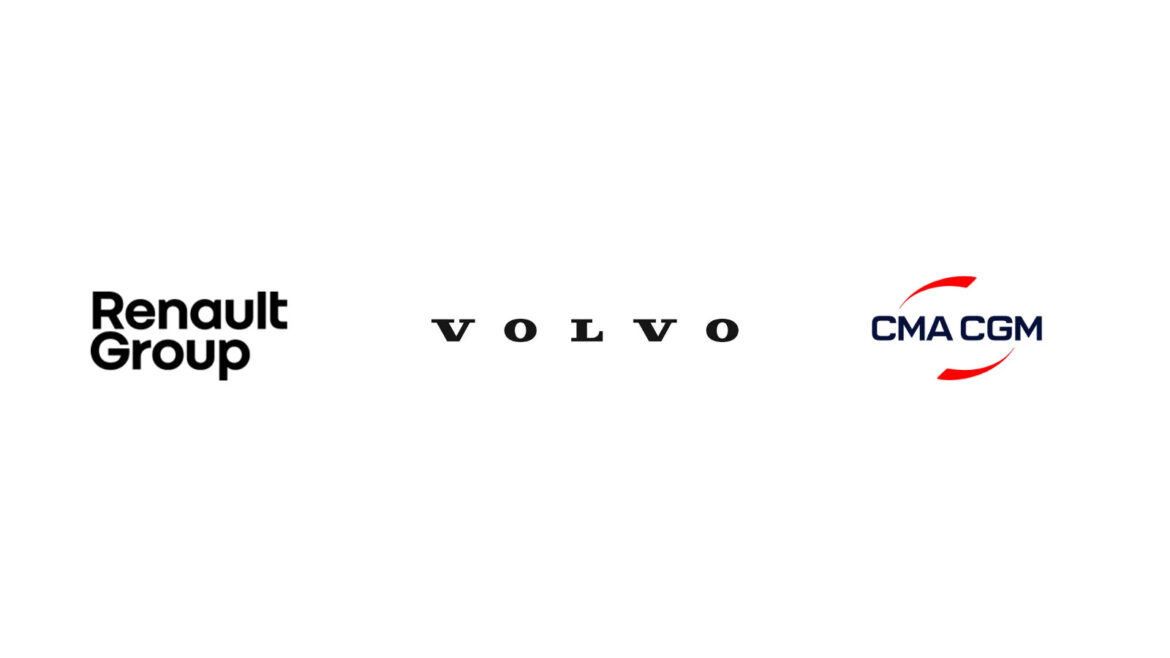 Renault Group and Volvo Group join forces to address the growing needs of decarbonized and efficient logistics by creating a new company managing the development of an all-new generation of electric vans. The two groups look forward to CMA CGM joining the new company. Renault and Volvo will continue to seek additional investment and business partners.
An all-new family of fully electric and software defined vehicles will be introduced by the new company. The production is planned to start in 2026.
Modularity and safety
The vehicles will be built on a new fully electric LCV skateboard platform that will offer high modularity for different body types at low cost and breakthrough on safety requirements.
Unrivalled performance and range of services thanks to high connectivity
Adopting the new Software Defined Vehicle architecture, the vehicle will onboard unprecedent capabilities to monitor the delivery activity and user business performance, reducing by 30% the global cost of usage for the logistic players. The connected services[1] enabled by the software defined vehicle technology will offer to the customers up to date vehicles all lifelong. The van itself will offer outstanding compacity for urban mobility, high polyvalence for tailor made solutions, different battery capacities with unprecedent 800V feature for vans.
Creation of a market maker: agility of a new company combined with robust business plan and expertise of three champions
The new company will be fully independent, combining the agility of a start-up with the strong backbone of its industry-leading partners. Renault Group and Volvo Group aim to share investments in research and development and bring benefit of existing know-how, services, and industrial footprint to the new planned company. With smart capital allocations through the champions in each field, the new company will be based on a solid and efficient business model.
As a global champion of Light Commercial Vehicle and innovative leader in electric vehicle, Renault Group will bring the know how to develop and manufacture at scale the electric platform that will onboard its first Software Defined Vehicle architecture, offering unprecedent experience to connect in open source the vehicle to the logistic business environment.
Volvo Group is a global leader in trucks with a strong customer base of professional logistic companies, a global service network, and a wide experience in uptime and productivity services. Such services will, in combination with the innovative vehicle platform, contribute to a full solution for decarbonized urban logistics. As a global player on all segments of the supply chain, CMA CGM intends to assist the new company in building appropriate solutions that can fit all transport and supply chain player's needs, based on end-to-end efficient solutions.
"We are excited to take yet another step in our journey towards sustainable transport solutions through the intended establishment of a new company. Volvo Group is keen to continue to offer its customers complete transport solutions that help them decarbonize their value chains. We see a growing demand for clean, efficient, and safe urban transportation and partnership and collaboration is key to achieve this," says Martin Lundstedt, President, and CEO of Volvo Group.
"Electrification and digitalization are paving the way for a revolution in the LCV market. Renault Group intends to lead this transformation while ensuring a robust and effective value creation. Today, we are very proud to embark in this journey with Volvo Group to bring the best of solutions to our professional customers. We also look forward to CMA CGM joining the company. The new company is the start-up minded, unmatched combination of the complementary assets of 3 champions: a leading truck maker, expert in tailored services, a champion of the global supply chains, and a European EV pioneer & LCV leader. All the ingredients are there to come up with something truly unique," says Luca de Meo, CEO of Renault Group.
"As a leader in transport and logistics, the CMA CGM Group is proud to join forces with a major European carmaker and a leading global truck maker, Renault Group and Volvo Group, to create this new company of electric vans. This is a comprehensive and innovative partnership: not only are we investing in this project, but we will also bring our know-how and expertise to ensure inbound and outbound logistics, while some of these vehicles could ultimately be used to decarbonize our fleet. Through this new investment by our PULSE Fund in electric mobility, we are pursuing our commitment to accelerate the decarbonization of our activity and our sector," says Rodolphe Saadé, Chairman and CEO of the CMA CGM Group.
The joint venture is scheduled to start operations early 2024, depending on the completion of all regulatory approval processes. The subsequent entry of CMA CGM in the company is equally subject to the completion of regulatory approval process. The future company is planned to operate under its own corporate identity and will be based in France. Volvo Group, through its business area Renault Trucks, and Renault Group have been working together on light commercial vehicles for more than 35 years, materialized by the distribution in both networks of the Renault Master and Trafic commercial vehicles.